Pitco 35C Gas Fryer
Commercial Deep Fryers
(1) 40 lb Vat, Floor Model, Natural Gas
Pitco  Description :Pitco 35C Gas Fryer
Pitco 35C Gas Fryer With a width of just 151⁄8 inches, this Pitco 35C+S commercial fryer is ideal for foodservice operations that have a small footprint but need to meet a high-volume demand for fried foods. It can hold 35 to 40 pounds of oil in its stainless steel tank, which is welded and peened with a smooth, quick-cleaning finish. Ensuring operators can fry breaded foods without worrying about crumbs or sediment burning and damaging the oil quality, the unit has a deep cold zone and a temperature range of 200 to 400 degrees Fahrenheit.
A front-located 11⁄4-inch NPT drain valve and drain extension ensure the tank drains quickly into the appropriate container, while a clean-out rod removes any remaining crumbs or sediment. The Pitco 35C+S fryer operates safely and efficiently with an integrated gas control valve and a number of other standard features. Mounted in the heat exchanger tubes, the heat baffles are made from a long-lasting alloy stainless steel and provide heat and combustion with maximum efficiency. A standing pilot light provides an instant flame, but gas flow is automatically shut off if the pilot goes out or if the high-temperature limit is exceeded.
Product Details
35- to 40-lb. oil capacity
Welded and peened stainless steel tank has a smooth finish that facilitates cleaning
Stainless steel heat baffles are mounted in the exchanger tubes to efficiently heat the oil
Standing pilot light is ready when heat is needed
2 nickel-plated mesh wire baskets
Removable hanger holds the baskets out of oil
Stainless steel front and door with a galvanized steel rear and sides
11⁄4-in. NPT drain in the front efficiently drains to facilitate cleaning
Drain line clean-out rod
6-in. adjustable legs
90,000 BTU
Product Features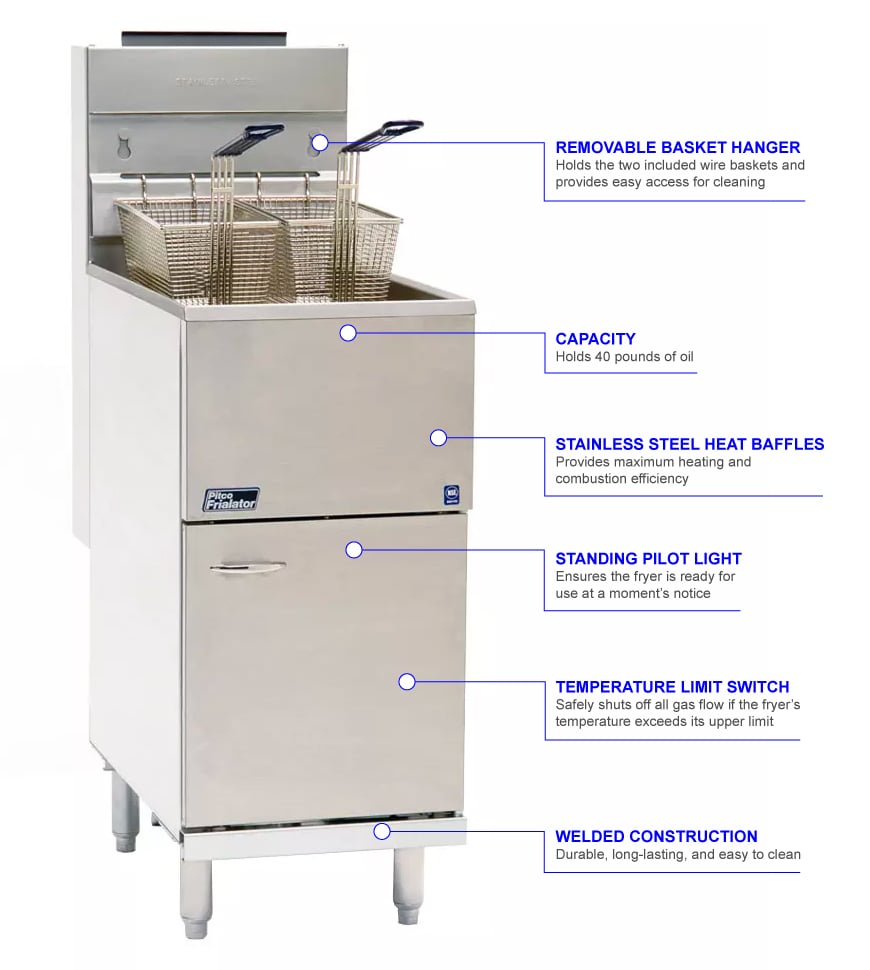 Control System
Temperature range: 200-400 degrees F
Gas control valve acts as a pilot valve, gas filter, main valve, and pressure regulator
Gas control valve prevents gas from flowing to the main burner if the pilot goes out
Temperature-limit switch shuts off gas flow if the temperature exceeds the maximum limit
Dimensions & Utilities
151⁄8 in. W x 309⁄32 in. D x 479⁄32 in. H
Heated by natural gas
26.3 kW
Fryer, natural gas, floor model, 35-40 lb. oil capacity, millivolt control, stainless steel tank, door & front, 90,000 BTU, CSA, NSF, CE
For more information or in case of any query, Contact Us!