Double Bowl Sink 120
Restaurant Kitchen Sink
Double Bowl Sink 120 Specifications: 

• Fully welded  AISI 304  stainless steel sink + double sink + bottom shelf. This sink made of very high-quality stainless steel is also suitable for chemical materials and is very good and easy to clean.
* Very sturdy and suitable for  HEAVY DUTY  use.
• 2 x extra large sink 500x400x250(h).
*  Depth 700 mm .
• Raised splashback, ensures that nothing falls behind the sink (such as water, dirt, etc.).
* Suitable for any universal faucet or pre-rinse shower.
•  Hole for tap is 35? mm . On sinks with 1 sink, this tap hole is located behind the sink at the height of the center of the sink. With a sink with 2 sinks, this tap hole is behind the sinks and then in the middle between the 2 sinks.

Easy to move thanks to wheels (optional).
• We can also mount wheels for you on almost all INOX products. This is ideal for cleaning under/behind the tables and cupboards, etc. It is also very useful if you need space if, for example, you can drive the heavy sink or workbench to the side. You do not have to worry that the material is not stable, because part of the wheels is always equipped with a good braking function. This way you can easily fix the tables.
• We can also install a lock per drawer/door on the sink unit with drawers, folding door(s) and sliding door(s), this costs 150 per lock (see related products).
• The floor drain(s) of this sink is always in the corner on the inside (see picture).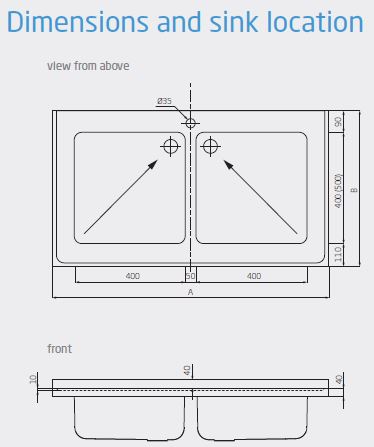 This stainless steel 2 Bowl Sink is standard made of AISI 304. This is a superior quality that is also suitable for laboratory, hospital, etc. ALPHA can also make all stainless steel products in thicker stainless steel material. For these kinds of requests, please contact our stainless steel consultants, we can then immediately make a quote for you.
Contact us for the price of stainless steel products in other widths, heights or depths. ALPHA makes a quotation for customization within 24 hours. This furniture is manufactured to order and can not be returned. Cancellation possible within 12 hours of placing your order.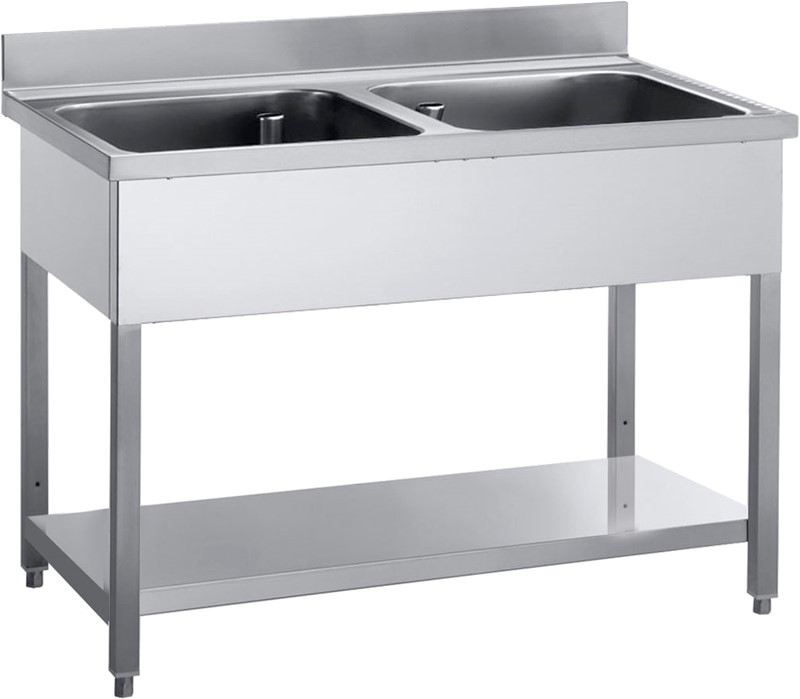 For More Information or any Product Related Query Contact Us !