Floor Grating & box
Heavy duty FLOOR GRATING & BOX (steel grating channel) , Trench Drains and Gratings  made by welding with heavy flat bar and cross/round bars with certain distances.
Our Grating enjoy the feature of high strength, convenience for loading and other properties.
The Steel bar grating is a widely used grating type .  Also It is being use in the trench and drainage system as the trench and
drainage cover to ensure the excellent drainage performance and secure the pedestrians safety.
STANDARD CHANNELS
Our standard channels are made from stainless steel, and are long-lasting. Due to the hygienic design, they are easy to keep clean. Channels up to 4 meters are made of a single part. Bigger lengths are connected by means of flanges and seals. There is a choice of lengths, as well as widths (150 mm, 200 mm, 220 mm, 600 mm etc.). Several gratings (covers) are available. The channels are available with four different gratings. and custom made one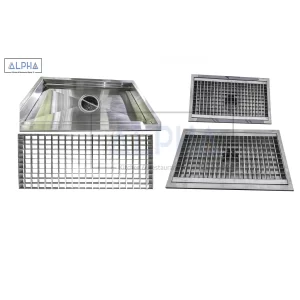 Details :
• Made of Stainless steel AISI-304(18/10)
* Pitched towards waste
• Grid 2 mm flat bar
* Includes s/steel strainer basket & handle( optional)
• Dimensions :1000x300x30/100mm
* Fabricated By : Alpha-inox
It is versatile and durable product that can be used in a variety of settings. Trench Drains and Grating is made of high-quality stainless steel AISI-304(18/10) and is designed to withstand heavy use. The floor grating is pitched towards waste, making it easy to clean and maintain. The included stainless steel strainer basket helps to catch debris and prevent clogging. The handle makes it easy to move the floor grating and box, and it can be removed for easy storage.
Here are some of the features of the Floor Grating & Box:
Made of high-quality stainless steel AISI-304(18/10)
Durable
Pitched towards waste for easy cleaning
Includes stainless steel strainer basket
Removable handle for easy storage
It  is the perfect solution for a variety of settings, including:
Warehouses
Factories
Loading docks
Kitchens
Bathrooms
Outdoor areas
Order yours today and experience the difference!
floor grating
Trench Drains and Gratings
floor grating & box
stainless steel floor grating
stainless steel floor grating & box
durable floor grating
pitched floor grating
waste floor grating
strainer basket

kitchen floor grating

warehouse floor grating
floor grating KSA
loading dock floor grating
kitchen floor grating
bathroom floor grating
outdoor floor grating
Alpha-inox
so walkways, trestle-bridge, ditch cover, covers, ladders, fences and railings etc.
Visit us at our Factory MAPS
also you can contact us . we do stainless steel fabrication for Qatar & GCC
Click here to see more products!